Pete & Pete's First Ever Dumpster Dive!
We are excited to announce our first ever holiday toy drive!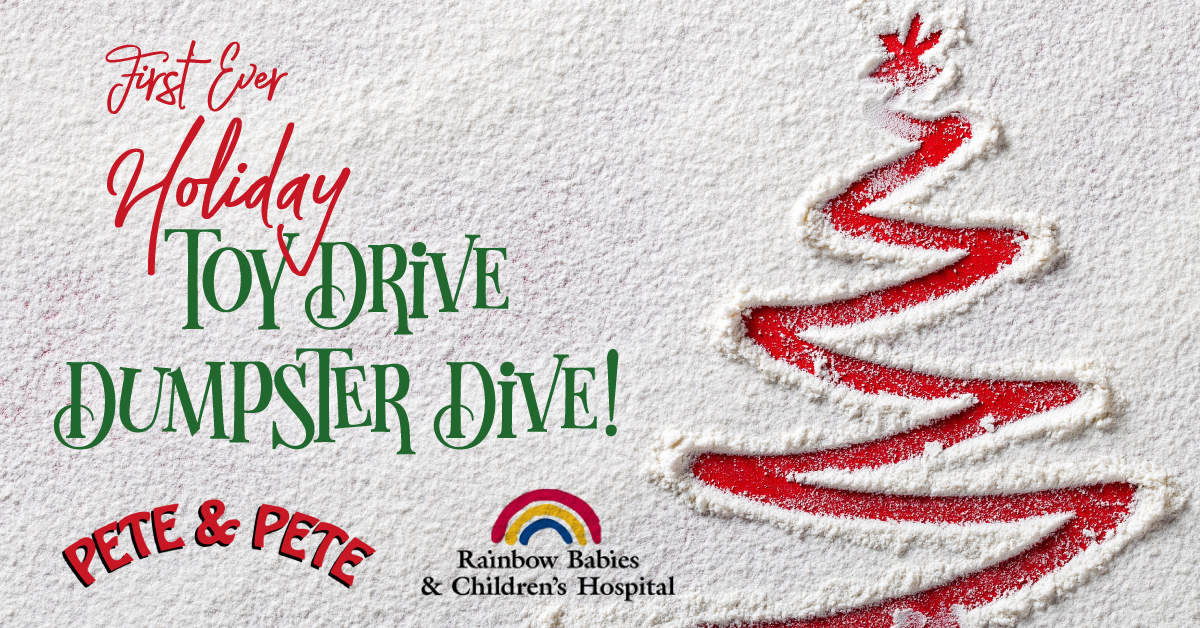 Now - December
During the month of November, our goal is to fill a 40-yard container with brand new toys donated by our generous customers and vendors. We will be delivering the container filled with toys on December 8, 2018 to UH Rainbow Babies & Children's Hospital.
The dumpster will be located at:
St. Basil Church, 8700 Brecksville Rd., Brecksville, OH 44141
You my also send gifts shipped to us from any website at:
4830 Warner Rd.
Garfield Hts., OH 44125
Drop of your donations Monday-Friday 7:00am - 4:30pm
UH Rainbow Babies & Children's Hospital Approved Gift List:
Due to infection control policies and for the safety of all patients, the toys must be brand new and from this approved list.
Please buy only brand names whenever possible.
Items Needed Most: (For Boys & Girls)
Lego Kits
Art/Craft Kits
Matchbox Cars/Hot Wheels
Playdoh
Small Dolls & Action Figures
High Demand: (Infants/Toddlers)
Light & Music Toys
Cause & Effect Toys
Sensory Toys
Rattles
Receiving Blankets
Lullaby CS's
Larger Sized High Demand Items:
Nurture Smart Mobiles
Tiny Love Take Along Mobiles
Sound Machines
Infant Bouncy Seats (w/ vinyl, cleanable seat covers)
Infant Swings (electrically powered, with vinyl, cleanable seats/covers)
High Demand Gift Cards - $20 or more
Used for patients celebrating birthdays, treatment milestones or other life milestones while hosptialized
Visa
App Store
iTunes
Xbox
Amazon
Target
WalMart
Art & Music Supplies Needed:
Clip-on Guitar Tuners
Variety of Scrapbooking Stickers
Various Sized Canvas Boards
Quality Colored Pencils
Quality Paint Brushes with Plastic Handles
Cardboard Masks
Watercolor Paper Pads
Coloring Books for Children & Teens
Slime Ingredients
Other Items:
New Release DVD's (rated G)
Current, Age Appropriate, Xbox 360 Games
Fuji Instamax Instant Cameras with Film
Find It Games & Card Games
Meteor Storm Spiral Spinner Wands
Lip Smackers
Portable DVD & CD Players
Handheld Game Systems
Pajamas for Boys & Girls
ITEMS WE CANNOT ACCEPT:
Bubble Bath

Military Toys

Guns of any sort

Religious-Themed Materials (Books, Toys, Music etc...)

Latex Items of any sort

Toys that have been on display or stored in a way that may have gathered dust, cigarette smoke and allergens - even if they are brand new
We look forward to working with you for our Toy Drive Dumpster Dive and making it a huge success!
If you have any questions, please call Megan Vartorella or Christine Thornton at (216) 441-4422